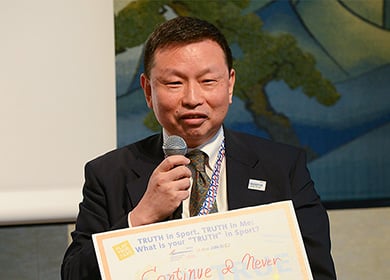 It has always been an exciting time and experience for me to meet the colleagues of Asia-Oceania clean sport community. In particular, 2020 edition of International Seminar was as "GoVirtual" due to COVID-19, however it was a good opportunity to bring many colleagues together and meet our WADA President, WADA Directors in different specialist areas and other experts.
It is thanks to JADA's initiative.

Throughout the JADA Seminar, it has consistently been aimed to build a clean sport network and relationship so that all of us can be motivated and encouraged sharing the same passion for the true value of sport.

The 2020 edition was focused on the 2021Code and International Standards. We gained many points to help us to find the solutions to cope with the requirements. We have certainly realized the urgency to fit to our organization, our operation, our staff and ourselves to a new era of Anti-Doping movement.

JADA has been instrumental to make the "invisible" values of sport as visible and tangible as possible through its legacy project, "PLAY TRUE 2020, Sport for Tomorrow".

In 2021, the year of Tokyo Olympic & Paralympic Games, the Regional Office for Asia-Oceania in Tokyo will continue assisting the NADOs to be compliant with the Code, support your programs to be implemented effectively and efficiently. Working with such strong partner as JADA, we will keep facilitating your capacity building development. The Asia-Oceania Regional Office will continue promoting the international / regional partnership with various stakeholders including advanced NADOs, RADOs, public authorities, Olympic Movement and other international organizations for clean sport.

I hope this International Seminar in Asia & Oceania will keep helping us united with solidarity to protect clean athlete and sport.