Athletes Initiating to Relaying Messages on the Importance of Protecting Clean Sport from Japan to the World
2015 International Athlete Forum for 2020
Organised by

The "2015 International Athlete Forum for 2020" was held 1-2 October, 2015. Athletes from different sport, ages, and countries shared their thoughts and passion on the values and power of sport and relayed positive messages for the future of sport to the world. The Forum was also held as a part of the "2020 Young Athletes' Project" being initiated by the Tokyo Organising Committee of the Olympic and Paralympic Games.
"Values of Sport" and ME, messages for the future
Co-organised by:
・Japan Sport Council
・University of Tsukuba / Tsukuba International Academy
 for Sport Studies (TIAS)
・Japanese Olympic Committee
・Japanese Paralympic Committee

Supported by:
・Ministry of Foreign Affairs of Japan (MOFA)
・Jigoro Kano Memorial International Sport Institute
・Paralympians Association of Japan

Partnered with:
Tokyo Organising Committee of the Olympic and Paralympic Games
At the Forum Day 1, over 200 people of the sport community, along with university students, media and others, from 18 countries participated.
The Day 2 programme was centred on youth athletes, and over 100 athletes took part, with Olympians and Paralympians serving as group leaders.
Protect and Promote Clean Athletes and Sport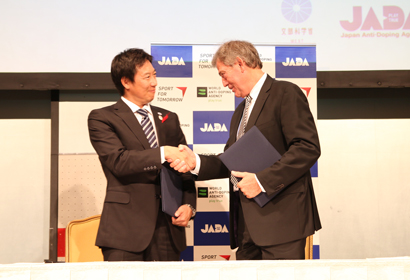 Mr. David Howman, WADA Director General, and Dr. Daichi Suzuki, appointed as Commissioner of the Japan Sports Agency on 1 October (formerly a member of WADA's Athlete Committee), conducted a signing ceremony to confirm the continuous commitment of WADA and the Japan Sports Agency to activities for the integrity of sport and the further development of clean sport and athletes.
Create the Future through Sport and Athletes of Tomorrow:
Relaying message for 2020 and beyond
At the two "Forefront Discussion" on Day 1, the panellists shared challenges and prospective as the voices of leaders dedicated to the development of future of sport.
WADA's four regional directors introduced the examples of initiatives to promote the anti-doping movement and discussed their challenges as well as the potential of other activities for protecting values of sport into the future. The discussion also highlighted how they manage to develop anti-doping activities ensuring to adapt the regional and cultural context including the status of sport in the respective society, while maintaining a unified set of World Anti-Doping Code which apply to all countries, all sports.
Claudia Bokel and Ben Sandford of WADA Athlete Committee, Eilish McColgan, Athlete Role Model from U.K. Anti-Doping, and Junichi Kawai, President of the Paralympians Association of Japan, were all present at the forum. With Yoko Tanabe (JADA's Athlete Committee Chair) serving as moderator, the discussion looked at the future of sport and the role of athletes in promoting sporting values.
"New MO!": Creating Fairness
-Relaying Positive Messages for the Future of Sport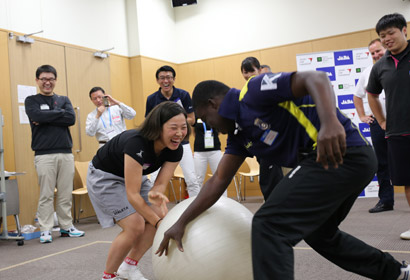 More than 100 young athletes joined the Day 2 of the Forum as "Leaders of Tomorrow."
Megumi Ikeda, A member of JADA Athlete Committee, led the overall programme with Olympians and Paralympians as the group leaders, the young athletes were divided into ten groups. "New MO!", which was invented by Koji Murofushi (Sports Director of The Tokyo Organising Committee of the Olympic and Paralympic Games and member of WADA and JADA Athlete Committees) based on the Japanese traditional Sumo wrestling, was introduced as the "future" sport.

The "Leaders of Tomorrow" athletes from various sports together exchanged their ideas to create their New MO! by finding and arranging the 'original' rule based on the "Fair for All, Respect, Fun" principle, the ground concept of the New MO!, under a variety of conditions and restrictions. And then they discussed to seek for values in sport as they were exposed to experience through New MO! activity. Furthermore, they created to disseminate the positive messages for the future of sport.(Twitter;#pt2020newmo)