Look for PLAY TRUE principles in athlete interviews and learn the values of sports in quizzes on anti-doping and sports!
Collect PLAY TRUE points by learning how to protect the values of sports, and realising how important they really are.
Collect lots of PLAY TRUE points, and challenge yourself to the PLAY TRUE quizzes of top athletes!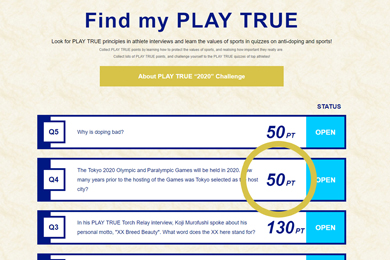 Complete the daily "Find My PLAY TRUE" quiz!
Answer correctly, and you'll get
PLAY TRUE points.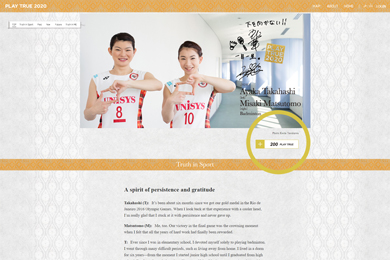 Read athlete interviews, and look for
PLAY TRUE principles!
* Click the button hidden on the page to get PLAY TRUE points.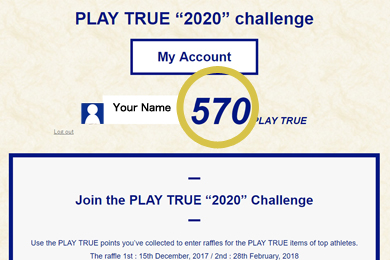 Depending on the amount of PLAY TRUE points you've collected, you'll be able to enter various raffles for PLAY TRUE items.

Go to My Account to join the
PLAY TRUE "2020" Challenge
About PLAY TRUE "2020" Challenge
Use the PLAY TRUE points you've collected to enter raffles for the
PLAY TRUE items of top athletes.
The raffle 2nd : 28th February, 2018
The PLAY TRUE item(s) for this challenge is:

Hockey Ball with Ms. Marsha Cox's autograph( 1 people )
Polo shirt with JADA Athlete Committee members' autograph( 1 people )

PLAY TRUE unique novelty item( 10 people )